---
Porsche 356 Tool Kits
[Home] [Complete kits] [Tool bags] [Messko gauge] [Screwdrivers] [Wrenches] [Lug wrench] [Spark plug socket] [Pliers] [Pulley wrench] [Jack] [Miscellaneous] [Wanted and For Sale/Trade] [Tool sources] [Travel kits] [Hazet spare tire tool kits] [Links]

Please note: other than tools on the "Wanted and For Sale/Trade" page, these tools are not for sale.
---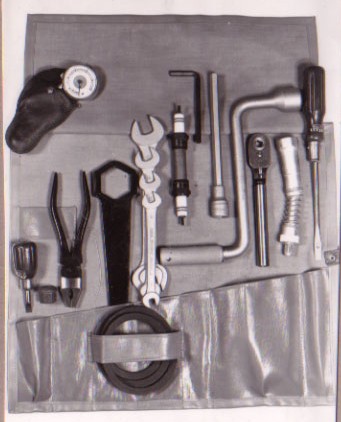 (photo courtesy of Archive Marinello)
This kit was unique to early A Carrera cars, produced in late 1955 and early 1956.
This is an interesting photo. It was taken for preparing the Driver's Manuals, and was later modified to suit the manual. Compare it to Carrera kit #1 and #2 on Charlie White's website - this is the base photo used for both pictures in the manuals, except that the jack was superimposed over the top, and the pulley holding spanner was added above the pulley wrench. Carrera kit #2 added the Philips screwdriver, just like in the pushrod kits of the same vintage.
Contents:
Case
Short slot screwdriver
Long slot screwdriver
Tire gauge with case
Combination pliers
Open end wrenches, 8 x 9mm, 10 x 14mm, 11 x 12mm, 17 x 19mm
Generator pulley wrench
Spanner for holding pulley (not shown)
Spark plug socket
Ratchet handle for spark plug socket
Wheel nut wrench/jack handle
Small allan wrench for adjusting valves
Allan wrench for oil drain plug
Two spark plugs
Jack (not shown)
Spare lug nut, fan belt
---
All site content, including images, tables, and text is © 2005 by Eric Cherneff. Duplication in any form is prohibited without express permission. All rights reserved.
WANTED: photographs of tool kits and individual tools, and information about them if you can expand or correct the descriptions I have provided on these pages. Contact me: eric@356a.com Also: if you have old tools you want to sell, please tell me. I may be interested.
Please visit my Porsche 356 serial number and engine reference site: www.356a.com
---