---
Porsche 356 Tool Kits
[Home] [Complete kits] [Tool bags] [Messko gauge] [Screwdrivers] [Wrenches] [Lug wrench] [Spark plug socket] [Pliers] [Pulley wrench] [Jack] [Miscellaneous] [Wanted and For Sale/Trade] [Tool sources] [Travel kits] [Hazet spare tire tool kits] [Links]

Please note: other than tools on the "Wanted and For Sale/Trade" page, these tools are not for sale.
---
Original tool kit and jack from America/Aluminum Roadster, VIN 12317 delivered in the summer of 1952. As of 2007, this car has less than 10,000 miles from new. The kit was never used, and opened only for show and photographing.
Photo credits: The Schiemer Archive
Many thanks to Paul Schiemer for providing the photographs and arranging for permission for them to be displayed on 356.ca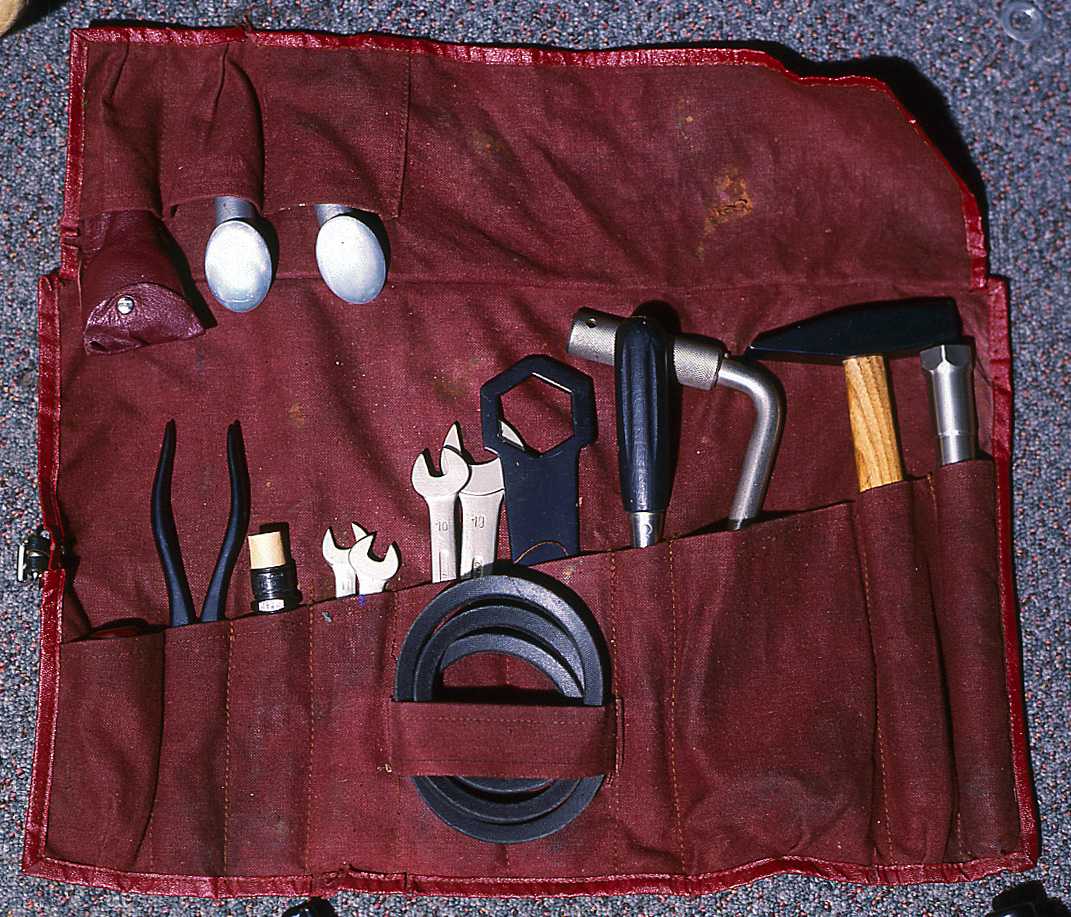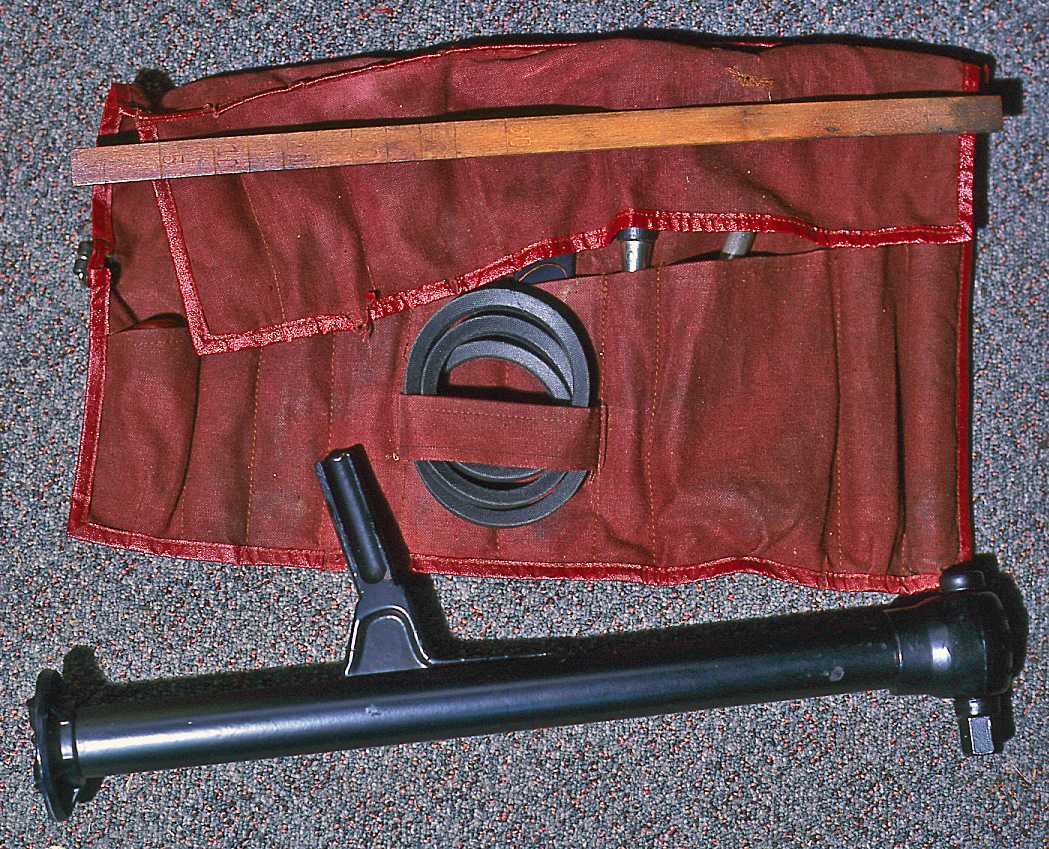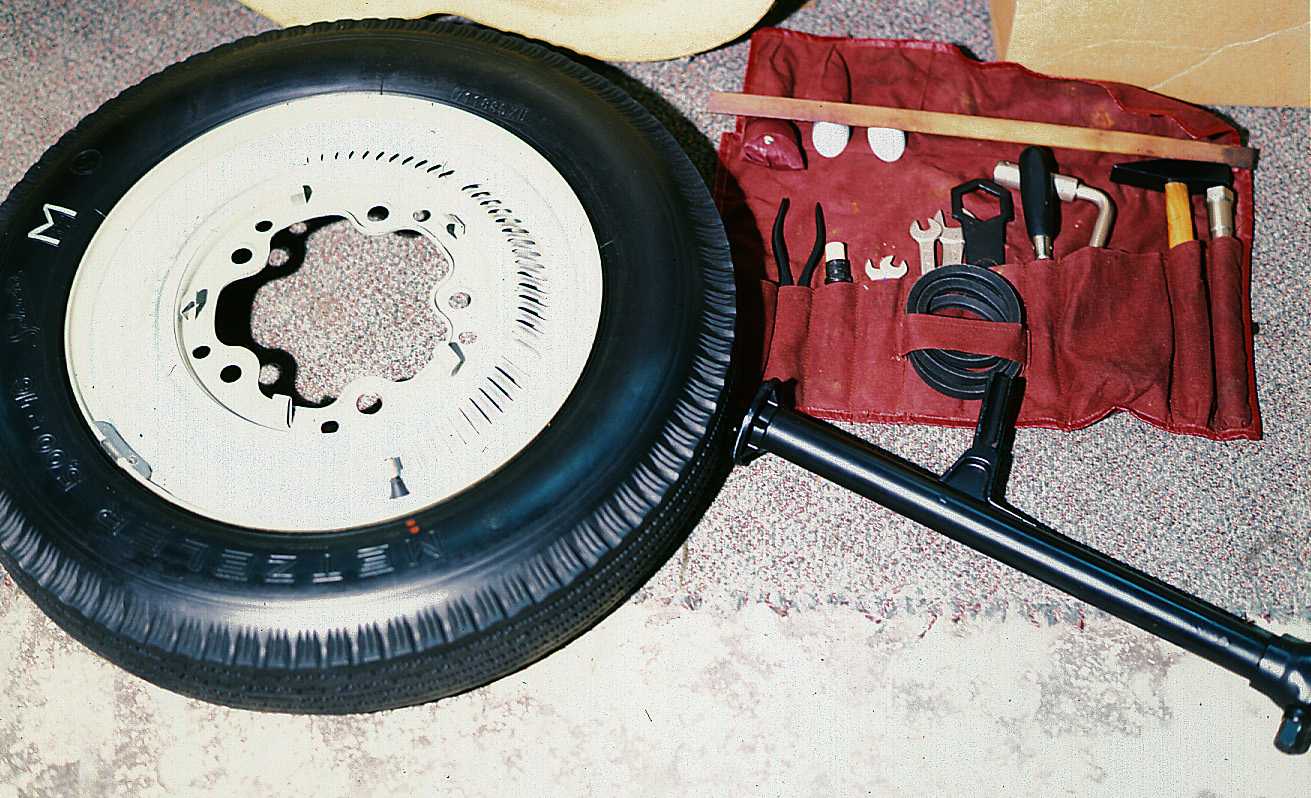 (click on photo for larger image)
Case
Short slot screwdriver
Long slot screwdriver
Tire gauge with case
Combination pliers
Open end wrenches, likely 8 x 9mm, 10 x 14mm, 11 x 12mm, 17 x 19mm
Generator pulley wrench
Spark plug wrench with bar
Wheel nut wrench/jack handle
Hammer
Jack
Jack socket extenders (?) - the silver objects in the top flap
Spare lug nut (? not seen), fan belt, spark plug
Gas measuring stick - calibrated with 5, 10, 20, 30, 40, 50 (liters presumably)
Some observations:
-appears to be red canvas case, with red vinyl or leather binding
-red Messko pouch, with a chrome finish snap
-plating on sparkplug socket and lug wrench appears brighter than later Pre-A/early A tools.
-long screwdriver: doesn't appear to be Jorg variety of later kits. Handle appears to have two flat sides, with two flutes in each of the two curved sides, painted black. Also see Jim Perrin's observations on early screwdrivers here - there appear to be some similarities.
-stubby screwdriver: hard to tell, but it appears to have deep red paint, so could be like the later Pre-A or early A variety
---
All site content, including images, tables, and text is © 2007 by Eric Cherneff. Duplication in any form is prohibited without express permission. All rights reserved.
WANTED: photographs of tool kits and individual tools, and information about them if you can expand or correct the descriptions I have provided on these pages. Contact me: eric@356a.com Also: if you have old tools you want to sell, please tell me. I may be interested.
Please visit my Porsche 356 serial number and engine reference site: www.356a.com
---